The artist and director Steve McQueen recently appeared on the Today programme on BBC Radio 4 to chat about his latest art project Tate Year 3 Project which strives to capture a traditional school class photograph in each London school to represent pupils aged 7-8 (a milestone year of their development). Whilst listening to Steve I was reminded of my work in schools across the UK, formerly driving a fresh visual narrative for the highly successful Musical Futures initiative and more recently with Royal Opera House Bridge, where I was commissioned to make a celebratory portrait series of the key creative partners in the Royal Opera House Bridge's region covering Bedfordshire, Essex Hertfordshire and Kent.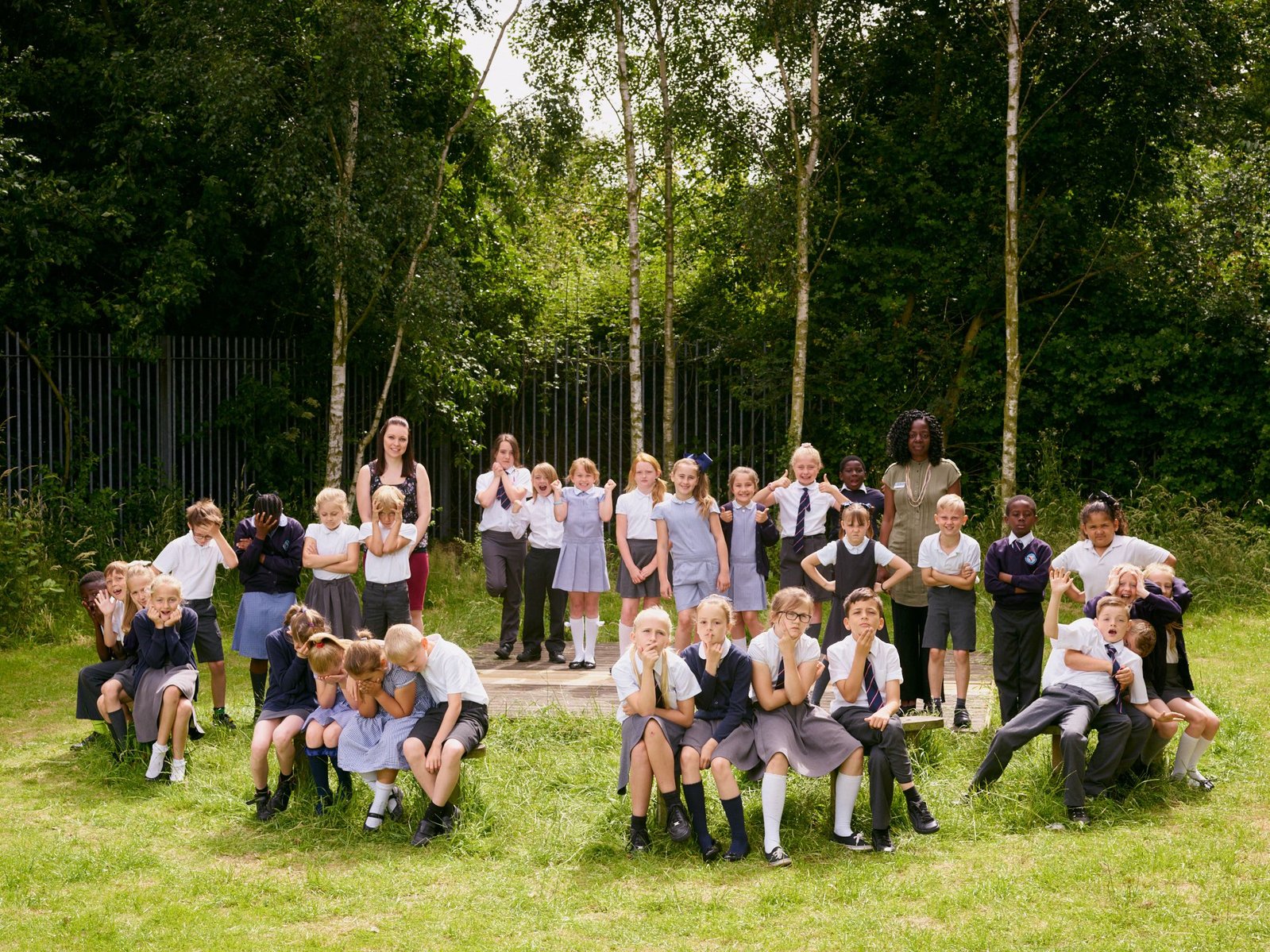 The photograph above features pupils of East Tilbury Primary School & Nursery in Essex, located right on the edge of the Thames Estuary. The pupils' involvement with Royal Opera House Bridge was led by the Assitant Headteacher Dr Deola Emmanuel, who fostered an amazing creative writing course, in addition to the school's regular curriculum. Although one can research and plan a portrait in great detail, sometimes some serendipity is required to allow a brief to really shine.
Deola and I had a few telephone calls prior to my visit to ensure that the school understood the more formal nature of the picture I was intending to create and also to marry a theme the pupils could relate too. Once on the ground and receiving a tour of the school, I discovered that the pupils were interpreting different emotions through written word. After finding a prime location (and adhoc space used by teachers to teach outside in good weather), I had a lightbulb moment whereby I spilt the class into different groups, each of which would act out an emotion to describe their chosen word.
To ensure a truly inclusive process, I nominated two pupils who were particularly keen about photography to be my assistants. They took their roles seriously by helping setting up the lights and climbing surrounding trees to rope back stray branches that were obscuring the camera's view. Once all set, the pupils embraced their emotions feverishly and the struck 'right' pose within 3 frames.
I love the formality of a classroom photograph (a truly universal portrait), not only to serve a timeline of a child's development but also acting as a time capsule representing uniform, clothing and hairstyle trends. Having the opportunity to create a different take on the classroom photograph, whilst retaining formality, was a real pleasure to be part of.
I wish the Tate Year 3 Project success #Year3Project