Since 2015 I have worked regularly with Dimensions, one the UK's largest not-for-profit organisations providing support for people with learning disabilities, autism, challenging behaviour and complex needs. Visiting numerous locations across the UK, I have documented many case studies and created principle photography for their marketing and communications. I have found working with the Dimensions team particularly rewarding, as the richness of the personalities of the people they support (a full spectrum of support services from assisted independent living through to 2-1 intensive 24hr care) is not only very diverse but inspiring and enlightening in ample measure. It has also been heart warming to witness high quality and attentive care of the more vulnerable members of our society.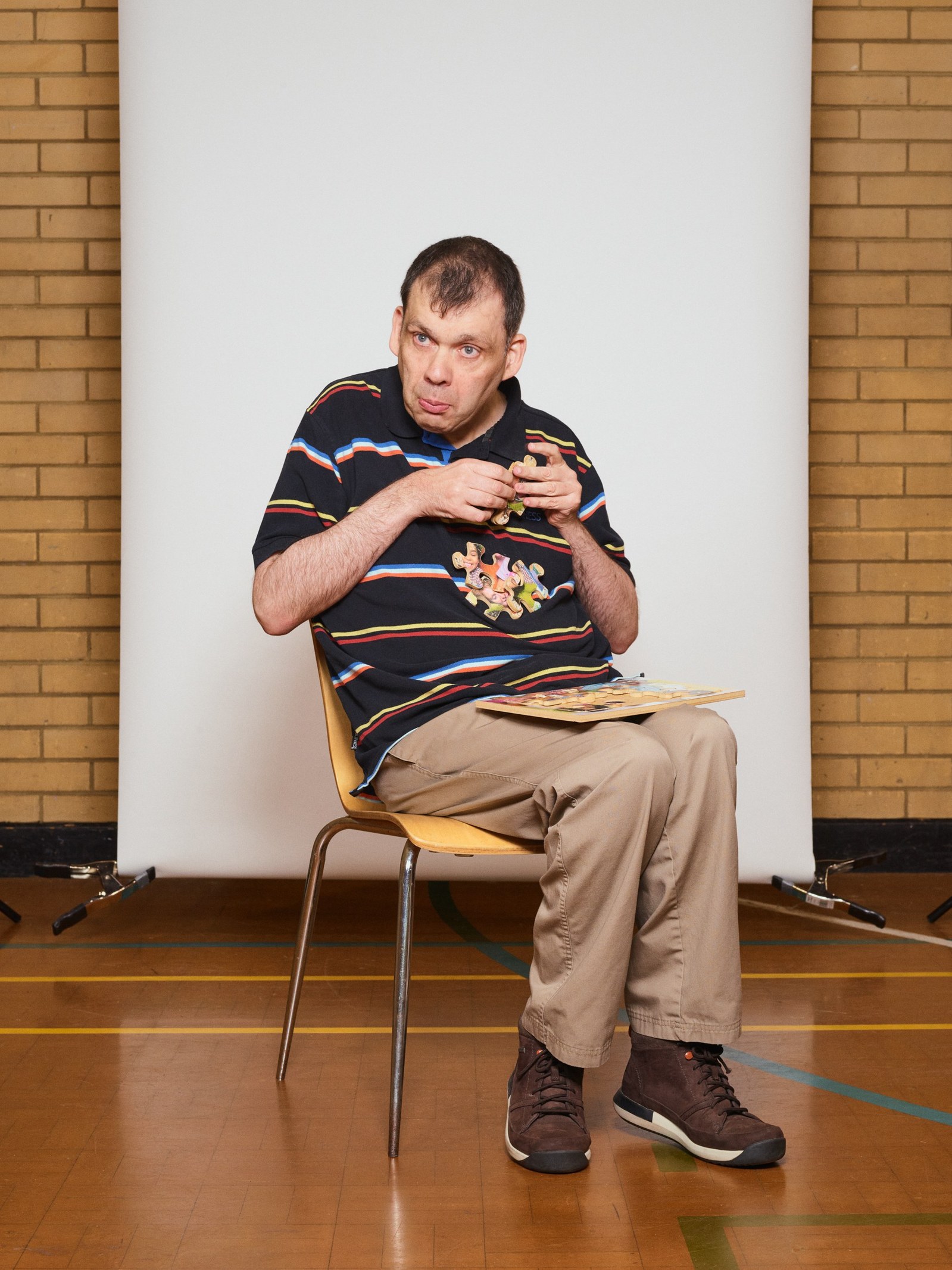 Earlier this summer, Dimensions Cymru invited me to collaborate on a project exploring how seemingly prosaic objects can be vitally important to people with autism and learning disabilities, because they often arrive in Dimensions's services without many or no possessions at all. So objects that appear uninteresting or quotidian become vitally important to improving their chances of developing secure and stable lives. And, like anyone seeking a stable and healthy live force, they can begin to gather belongings and build a narrative to their lives, helping them shape their stories, experiences and self empowerment.
The portraits were shot over a couple of hours in a corner of a municipal leisure centre's badminton court in Cardiff. The accompanying vibe was buzzing with excitement and anticipation, with great care and understanding on hand from the numerous support workers - many of which have a long standing and trusting relationship with the person(s) they support. I photographed 26 people and the range of objects presented was immense - from car keys, darts, a Race for Life medal and cuddly toys to some fabulous green plastic hands, a trusted pocket radio, puzzles, baseball caps, a fellow house mate and a glittering selection of West End Musical souvenir brochures.
The resulting exhibition *Power of Ownership* showcased 26 people with their meaningful object and was launched in Cardiff's esteemed Chapter arts venue, before moving onto the fabulous space Temple of Peace. ITV News made a lovely report and you can watch it on ITV's catch up player (skip through to 14:30 for the coverage). Most unfortunately, I could attend either the launch or locations as I was working abroad - though I hear the photographs were well received with many selfies of the participants next to their prints!
A huge thank you to Russ Kennedy, Adele Carter, Emma Jenkinson, Charlie Snell, Nicola Toon and Duncan Bell for all your organisational skills and passion.
If you would like to learn more about supporting Dimensions with their volunteer programme, please look at their programme page highlighting the opportunities. You can read about the exhibition over at this BBC News feature too.
Due to my absence, I thank Tessa Holly for capturing the prints looking rather stately in the Temple of Peace.