RA Magazine - Ingrid Pollard
I had a delightful start to 2022, as I drove north on the second day of the year to a remote spot in Northumberland National Park on the Scottish border to photograph Ingrid Pollard in her studio. Commissioned by Royal Academy of Arts Magazine's deputy editor Imogen Greenhalgh, I welcomed the opportunity to make portraits with Ingrid to accompany the magazine's long running and insightful 'In the studio' feature.
Imogen had interviewed Ingrid for 'In the studio' for RA Magazine's Spring 2022 edition, as Ingrid's upcoming exhibition 'Carbon Slowly Turning' at MK Gallery in Milton Keynes is the first major overview of her work spanning an influential 40 year creative journey.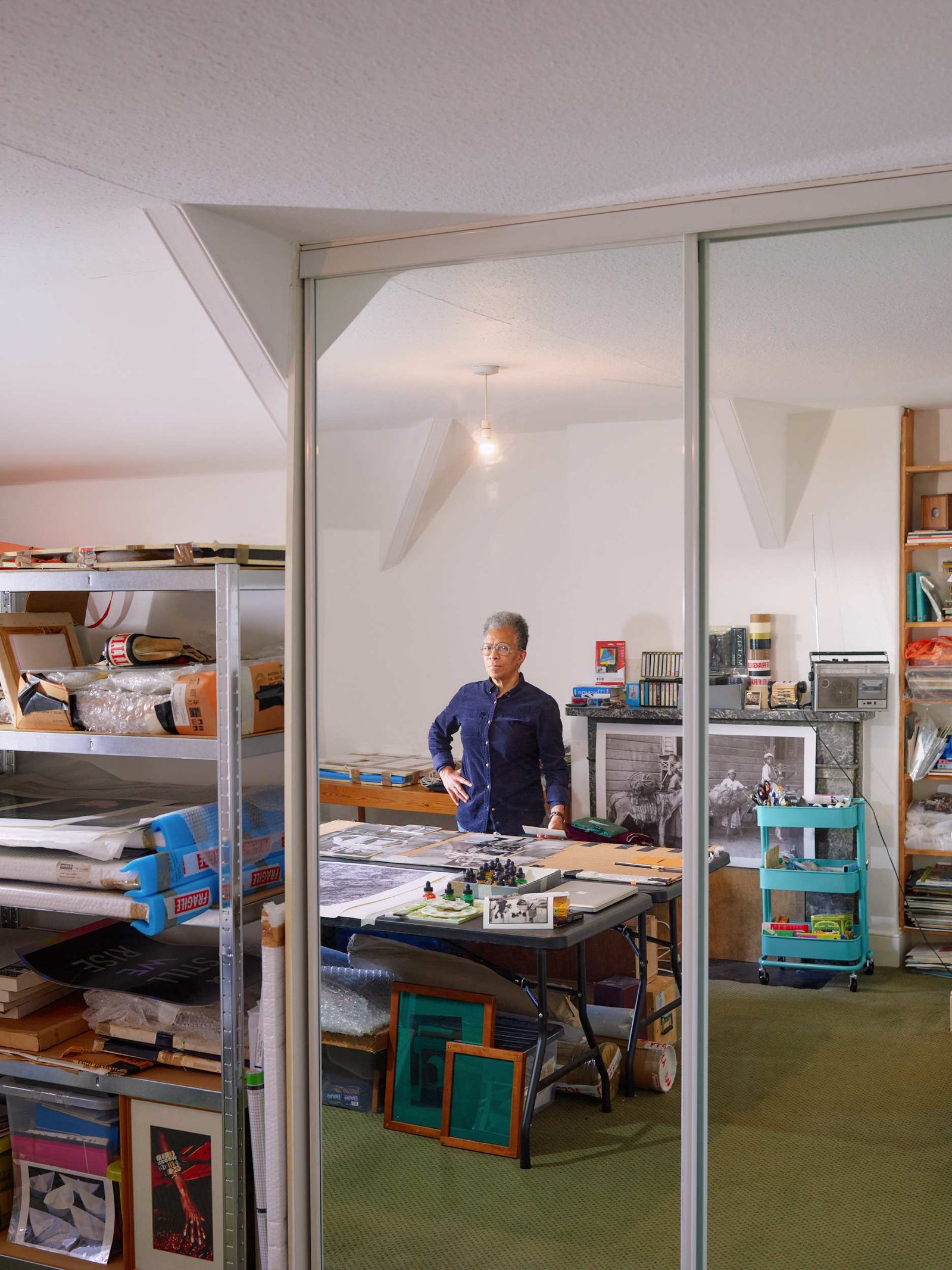 It was the second time I've photographed Ingrid and the winter faded, wind swept and saturated Northumbrian location was a far cry from the last time we met in her co-operative living space on a late summer's day in Finsbury Park, London.
Ingrid's exact observations, generosity and sense of calm had traveled north intact, though the ancient moorland setting, badly damaged by the recent Storm Arwen, seemed to break nature's serenity just as much as London's emergency service sirens and urban din.
I think an environment's unpredictability focuses Ingrid's discipline and allows her multi-media offering to thrive.
Once heavy cloud had exhausted the best of dawn's hibernal rays, we stopped making studio portraits and I started to photograph fragments of Ingrid's creative process, which included her 1995 work 'Contenders' which was being prepared for the MK Gallery exhibition. The prints looked magnificent.
After lunch, knowing we had only a few hours of daylight left, we ventured into decidedly inclement weather and settled on a nearby deer stalkers' shack that had been nearly destroyed by Storm Arwen.
Though strategically placed on a gully's ridge and originally built to enhance a hunter's aim whilst offering dry shelter, the building had in recent years been transformed into an adhoc artists' gallery space. The juxtaposition of old, damaged artwork (namely a striking heavy iron forged circle) heavy weather and Ingrid's presence presented a perfect opportunity for more portraits.
As we continued to walk and chat, our joint obsession with so many uprooted tress (many 100's of years in age) took grip and with moments before dusk's lustre entered nightfall and rain started to penetrate, we choose a suitably ramshackle spot to set up a light and compose the final frame - heavily drenched in green moss, lichen, broken branches and tumbledown stones.
A wonderful day turned into a long night's drive back south.
Thank you kindly to Imogen for the commission.
You can read Imogen's interview in Spring 2022's RA Magazine, available as part of RA Membership https://www.royalacademy.org.uk/ra-magazine/
Ingrid Pollard: Carbon Slowly Turning is being shown at the MK Gallery in Milton Keynes from March 12th to May 29th 2022.